IASIS is active in the field of Social Inclusion, Mental Health, and Education. The organization is affiliated with the Ministry of Labour, the National Register of Non-Profit Private Sector and the Special Register of Voluntary Non-Governmental Organizations of the Directorate-General for Welfare [09110AEN21094O32N- 0798 as well as 09110AEN21021N3210N].
IASIS has a management competency system certified by the Special Service / Sector for Health and Social Solidarity [1483 / 18-06-13], as well as ISO 9001:2015, ISO 27001:2013, ISO 27701:2019. Moreover, IASIS is certified as a VET Center (KEDIVIM1) by the National Organization for the Certification of Qualifications & Vocational Guidance (EOPPEP) (License Code 2100625), and is also certified as an executive body for the measure of community service (Government Gazette No.'3647 / 2017). In addition, IASIS has been certified by the Youth and Lifelong Learning Foundation (INEDIVIM) for the implementation of European Voluntary Service / European Solidarity Corps programme as hosting and supporting organization (Certification Code 2020-1-EL02-ESC52-006375).Finally, IASIS is under the supervision of the Ministry of Health, the Ministry of Labour and Social Affairs, the Ministry of Education, the European Union, and the annual financial reports are sent to the Court of Auditors and posted to the Greek Transparency Program initiative.
IASIS was founded in 2005. In its 15 years of experience and contribution, people have always been in the center of projects designed and implemented, with the main objectives of providing psychosocial support, combating the social exclusion of vulnerable groups, the provision of psychological and counseling services, the creation of equal opportunities and new perspectives. The total number of beneficiaries of the organization has been estimated at more than 500,000 people since 2006.
IASIS has been providing support to anyone in need for 15 years:
➢ People with mental health problems, through the operation of two (2) Boarding Houses, two (2) Sheltered Apartments and one (1) Day Center, (1) Integrated Community Therapy Service
➢ Homelessness and Poverty Action with the operation of one (1) Day Center for Homeless people with a total annual capacity of 1,000 people, and 72 sheltered apartments for homeless people in Chalkida and Attica region. In addition, through the Fabric Republic program, we provided over 20 tonnes of clothing to social vulnerable groups.
➢ Women victims of violence, by creating a support service for 200 women
➢ Asylum Seekers with the Psychosocial Service at the Schisto Camp with a focus on women, the operation of Elaionas camp in Attica region, two Shelters with a capacity of 70 persons and 350 persons respectively under the supervision and funding of the UN High Commissioner for Refugees, a Shelter for unaccompanied minors, with a capacity of 100 children – victims of war and single parent families
➢ Professionals on the Humanitarian and Educational sector. Training of over 7,500 professionals and students in over 90 different training packages created by our research and development team
➢ Children and Youngsters, through Epikentro Service, and six (6) CONNECT YOUR CITY Youth Centers, (1) accommodation facility for European Volunteers (European Solidarity Corps) who are hosted and participate in NGO's programs for six months.
The Department of Economics of the University of Western Macedonia is based in Kastoria and is belongs to the School of Economics. The Department's mission is the cultivation and promotion of Economics through teaching and research.
It provides a high level of economic studies with a contemporary curriculum on subjects that meet the needs of the national economy, but also the needs of the domestic and global marketplace. Therefore, its graduates can successfully transition to the labor market. Its faculty members. have significant theoretical and empirical knowledge in modern economics and internationally recognized publications and can thus transfer their knowledge in the best way possible way.
The Department develops significant research activity in the main modern fields of Economics. As the only department of economics in Western Macedonia, its research activity is closely linked to the regional and local development process. Under this scope, the department cooperates closely with public entities, municipalities and corporations.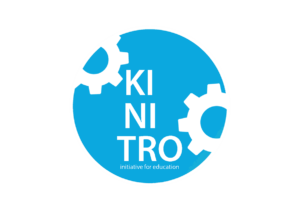 KINITRO offers Non-Formal Educational training for Businesses, Schools, and other Institutions, on different topics closely related to social rights, through workshops, seminars, and conferences. We already create a safe environment for more than 20.000 people worldwide to interact and learn from each other.
Labyrinth of Senses is the main project of KINITRO, an Initiative for Education. The core activity of KINITRO is designing and implementing tailor-made disABILITY AWAREness workshops, under the name "Labyrinth of Senses". Labyrinth of Senses started its activities already in 2014, promoting education on disabilities, team building, quick and creative thinking, disability and new technologies and many more. It provides all the tools needed for the participant to discover a world where equality, inclusion accessibility, acceptance, and respect prevail.
Cooperation partners
The program is implemented with the support of:
– Federation of Psychosocial Rehabilitation & Mental Health Institutions ARGO
– Municipality of Nea Smirni
Let's work together !
Feel free to contact us anytime!